AES67 and SMPTE ST 2110-30
AES67 and SMPTE ST 2110-30
Audio - over - IP : Interoperability and compatibility
Audio-over-IP is gradually replacing traditional point-to-point audio connections in today's broadcast facilities. While different manufacturers rely on different network protocols, international standardization organizations are now progressively releasing rules to enable interconnections between these individual approaches on AoIP. Jünger Audio is currently utilizing Audinate DanteTM as its network audio interface and this document is supposed to give a short introduction to interoperability and compatibility to international standards.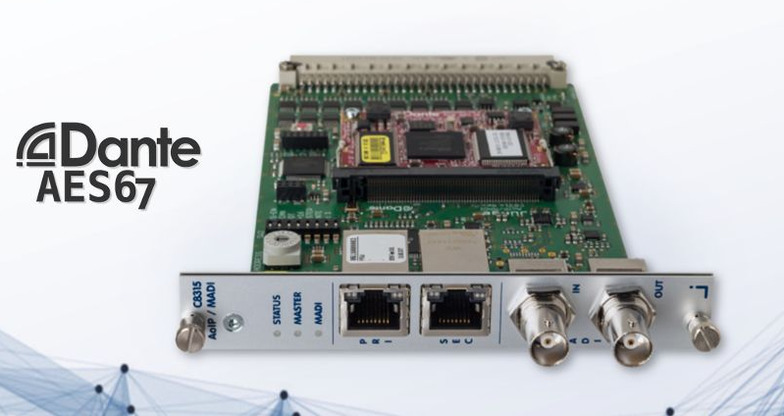 Audinate DanteTM - Jünger Audio's native AoIP interface
All current production (2018 portfolio) Jünger Audio devices can be equipped with multichannel Audio-over-IP interfaces. These interfaces are based on Audinate's DanteTM technology, utilizing an Audinate manufactured hardware interface (Audinate Brooklyn II). DanteTM is a high-performance audio network, enabling high channel counts and low latency. Its infrastructure is constantly developing and improving, ensuring its reliability, security and compatibility to other standards.
AES67 – The future of interoperability
The Audio Engineering Society released the standard AES67 in 2013. It is covering successful collaboration between AoIP implementations of different manufacturers. AES67 describes methods and best practices to enable different AoIP-formats to interconnect and interact to form a common audio network that is independent from a manufacturer's proprietary technology. Among others AES67 is currently supported by DanteTM, RavennaTM, Q-LANTM and Livewire+TM.
For AES67-compatibility each of Jünger Audio's DanteTM network interfaces can be switched to AES67 mode individually. This way the user is able to either crosslink between two third party networks or set up a dedicated AES67 network.
SMPTE ST 2110 – Standardized media transport
The SMPTE ST 2110 suite of standards is taking a look at the bigger picture and standardizes professional media transport over IP networks in general. Of course including audio, the collection also considers video and metadata real time streams. Audio transport is specifically discussed in standard SMPTE ST 2110-30.
SMPTE ST 2110-30 – Linear PCM audio transport
This standard is discussing Audio-over-IP transport. It is applicable to linear PCM at 16 or 24 bits, which is the basic technical format for uncompressed audio. The SMPTE standard references AES67 for audio transport with minor additional requirements. Network subscribers that are compatible to AES67 are technically enabled to work in a SMPTE ST 2110-30 based environments. However the additional requirements need to be fulfilled to transparently integrate into a SMPTE ST 2110 based network.
SMPTE ST 2059-2 (IEEE1588)
AES67 applies SMPTE ST 2059-2 as standard for media clock generation and distribution. This is identical to SMPTE ST 2110, however some additional requirements need to be met. Audinate is currently modifying its firmware to meet these additional requirements. The new version is due to be released by the end of 2018 and will support DanteTM Brooklyn II modules utilized in Jünger Audio's DanteTM enabled products.
Conclusion: With Jünger Audio you are AES67 compatible and prepared for SMPTE ST 2110!
Audinate's current firmware enables AES67 compatibility mode. All of Jünger Audio's DanteTM implementations support this firmware to provide compliance to AES67. This includes our Slim Line range of D*AP audio processors, the C8000 Modular Line, the Immersive Audio systems and all server based processing platforms. As Audinate's firmware further evolves Jünger Audio's implementations will keep track of current and future features and transparently integrate into SMPTE ST 2110 based networks.
Frequently asked technical questions
PTP and PTP Version 2 – is DanteTM compatible?
Audinate's DanteTM is utilizing a synchronization protocol called PTP (IEEE 1588-2002). Instead, AES67 is based on PTP Version 2 (IEEE 1588-2008). They are not the same. However, when switched to AES67 mode DanteTM is automatically bridging between both sync protocols, making DanteTM fully compliant to IEEE 1588-2008 and AES67.
SMPTE ST 2110 requires a fixed zero-offset between the PTP media clock and the RTP time stamp. This requirement will be met with the DanteTM firmware coming by the end of 2018. The new firmware will be user-updateable in all Jünger Audio AoIP enabled devices.
What about SMPTE ST 2110-31 – is it ready?
This standard is considering audio transport in traditional AES3 frames, which are particularly suitable for compressed audio formats like Dolby D/D+ and E, MPEG or AAC. However this standard is not approved yet as of August 2018. Further information will be released once this standard becomes active.
Network client discovery – is it still missing?
AES67 does not specify any means of network discovery. Different protocols make use of different methods to discover subscribers in their networks. Thus even when in AES67 mode clients from different networks may not recognize each other's immediately. An AES67 network requires either a common discovery method or manual configuration. For DanteTM and Ravenna AES67 clients, ALC NetworX offers a translation tool. For download and more information go to https://www.ravenna-network.com/aes67/rav2sap/
AES67 Packet Times:
All of Jünger Audio's DanteTM implementations currently support receiving packet times of 1 ms for 1 to 8 audio channels at 48 kHz sampling rate, when switched to AES67 mode. This is a mandatory Level A requirement of SMPTE ST 2110-30 with respect to AES67.